But now we would like to call your attention to projects that would greatly enhance the value and use-ability of the Farmstead and the wider extension of its ministry to others:
The most recent project is a Plain View Farm cookbook called "The Flavor of Plain View Farm." Pearl Ginther and her daughters and son will work on it, with Morris Press Cook Books of Nebraska doing the printing if the costs are within reach. Otherwise we will have to seek another means to get the book printed. It will have about 135 recipes. On the Home Page 1, we have the categories, if you wish to check them out and possibly submit a recipe. We want to feature any Scandinavian recipes if you have any. Family members will have their names printed along with the recipe, or if you prefer, you can be "Anonymous." We are going to order 150 copies, which we hope to sell to raise money (above the cost of printing) for the PVF Heritage Center and missions. Please say a prayer for this undertaking. Thank you!
Stadem Projects (First Presented 1997 at the Plain View Farm Reunion gathering!):
There is no reason why we cannot have a local Bryant area fruit stand, with prime vegies too, and maybe some honey products, for sale at Plain View Farm. Think how people are preferring organically grown items today, just like they were grown on Plain View Farm in the past, without pesticides and all the sprays commonly used now on commercial farms.
PRAISE GOD, HERE IS A LETTER OF SUPPORT FROM CORA TAYLOR, WHO IS THE ONLY OTHER SURVIVING SISTER OF PEARL GINTHER IN 2009 ON TO DECEMBER. Cora Stadem Taylor is 60 yr. plus missionary with the New Tribes Mission in Brazil, and she is a dearly beloved sister to Pearl Stadem Taylor! She has just turned the grand age of 94! And she is still on the job, though officially retired.
Cora Taylor, Heritage Center supporter, writes to sister Pearl Ginther and son Ron:
"I'm anxious to see what the Lord has in mind for the 'Heritage Center.' I'm expecting GREAT THINGS that will glorify the Lord. I love you."
Cora Taylor sends this Feb. 2010 reminiscence:
"Days Not To Be Forgotten"

"Pearl, my only sister, remember the day Papa bought that Santa Claus sled, and fit all of us into it. I was so amazed he would do that as he never would give Santa the glory. Then when the winter was getting colder by the week, he built a hood over the top with glass windows to see where we were going. [It was so cold out evenso] I recall I still cried and my tears froze hanging over my face as we [after riding the Santa Claus sled to school] we piled around the big wood stove at the school house. Our only teacher Mrs. Ruth Olsen hugged me while she peeled back the frozen tears. Then do you recall we'd put on ice skates and go down to the slough to skate? I have a proof that if one falls backwards, like I did hitting my head on that frozen ice--I saw stars! No kidding!

"Just received your letter and all those 100th celebration pictures of you and posters. Wow!

"Papa also made a simple, long board for us to ride on the snow with. Just think, 7 girls all standing, holding on to one another facing the same direction. He hooked one horse up and away we would go. If one fell, she would pull the rest off unless she fell in a nice deep snow bank. No crying, just laughing!--Your only sister, Cora"
Please go soon to the Cora and Carl page, with Cora's "Died with His Shoes On," telling of Carl's homegoing in 1990 in the Southern Cross of the May issue.
Her account contains the miraculous conversion of the Brazilian telephone lineman, right after Carl Taylor's tragic accident--a direct connection to God's miraculous grace through the fulfilment of a scripture verse he had marked in his devotions shortly before the fatal accident on the road! So don't miss it!"
GOD IS MOVING ON MORE LOVING HUMAN HEARTS TO GIVE! The funds are coming in for the Heritage Center from friends outside the family circle but still well within our circle of love. A former landlady and longtime friend to Jerry Ginther, Pearl Ginther's son, has contributed $100. This below represents the hundred dollar bill given in honor of Pearl Stadem Ginther by her eldest son Darrell R. Ginther. We would like to see many more such bills! Got one to give, this heritage center would be a wonderful investment in children and adults and countless visitors!
THIS AND THE FOLLOWING PARAGRAPH MAY BE THE MOST IMPORTANT PARTS ON THIS PAGE FOR YOU!
HOW DOES THE HERITAGE CENTER FIT IN TO TODAY'S CRISIS OF A DRIFTING SOCIETY THAT HAS CLEARLY LOST ITS MORAL COMPASS? BILLY GRAHAM, RECEIVING WITH RUTH GRAHAM THE CONGRESSIONAL GOLD MEDAL OF FREEDOM, WARNED AMERICANS AND SAID AMERICA HAS FORGOTTEN GOD AND WAS HEADING DIRECTLY TOWARD JUDGMENT! HOW? WE NO LONGER DEFEND HUMAN LIFE, IN THE WEAKEST MOST VULNERABLE FORM--THE CHILD IN THE WOMB! IT IS SAD WE HAVE TO MAKE THE FOLLOWING STATEMENTS, BUT WE NEED TO DO IT, LEST WE STADEM DESCENDANTS COVER UP WHAT NEEDS TO BE STOPPED AND REPENTED OF--NAMELY UNIVERSAL "ABORTION" GOING ON THROUGHOUT SCANDINAVIAN AND OTHER WESTERN COUNTRIES, INCLUDING AMERICA. THERE IS A VERY DARK CLOUD HANGING OVER AMERICA AND THE WESTERN COUNTRIES TODAY. THAT DARK CLOUD IS GOD'S JUDGMENT, FOR OUR KILLING THE INNOCENT, LITTLE UNBORN CHILDREN IN THE WOMB. WHAT IF WE STADEM AND HOLBECK DESCENDANTS LOSE OUR TRADITIONAL, GODLY REVERENCE FOR THE SANCTITY OF HUMAN LIFE--WILL WE ULTIMATELY LOSE OUR MOST CHERISHED VALUES AND FREEDOMS? THAT IS CALLED A RHETORICAL QUESTION, AS THE ANSWER IS OBVIOUS: YES! YES, WE WILL CERTAINLY LOSE OUR MOST CHERISHED VALUES AND FREEDOMS, FOR REGARD FOR THE SANCTITY OF GOD-CREATED LIFE UNDERGIRDS ALL OUR OTHER VALUES. GOD'S "THOU SHALT NOT KILL" PROTECTS EVERYTHING ELSE FROM HARM AND INJURY. HOW THEN CAN WE CONDONE STEM CELL RESEARCH USING AND DESTROYING HUMAN EMBRYOS IN ORDER TO CREATE NEW MEDICINES? THAT ISN'T GOD'S WAY OF DOING THINGS, AS HE WOULD NEVER SANCTION DESTROYING HUMAN LIFE IN THIS WAY, KILLING HUMAN LIFE TO PERSERVE OTHER HUMAN LIVES.

A DEAR FRIEND OF THE GINTHER FAMILY, A PASTOR, HAS JUST COME OUT WITH HIS NEW BOOK WHICH SHOWS OUR COUNTRY'S CHRISTIAN FOUNDING AND HERITAGE. "CAN THESE BONES LIVE", WHICH SHOWS HOW THE PROVIDENCE OF GOD ESTABLISHED AMERICA, IS A MUST-GET BOOK FOR ALL OF US! PARTICULARLY YOU PARENTS AND GRANDPARENTS NEED TO GET A COPY AND BE INFORMED TO SHARE WHAT THE BOOK HAS GATHERED TOGETHER FOR US IN ONE EASY FORMAT. SERIOUSLY, WE MUST NOT RELY ON OUR GRADE SCHOOL AND HIGH SCHOOL HISTORY, WHICH WAS SO DEFICIENT. SO MUCH IS AT STAKE IF WE LOSE AMERICAN VALUES AND CONSTITUTIONAL FREEDOMS AND OUR GOD-GRANTED INALIENABLE RIGHTS. WE MUST TAKE THIS EFFORT NOW, WHATEVER OUR AGES, TO KNOW WHAT WE WERE GIVEN BY OUR FOUNDING FATHERS IN AMERICA, LEST WE BE ROBBED OF IT BY REVISIONISTS REWRITING THE HISTORY AND DISTORTING ALL THE FACTS. YOU CAN ORDER THIS BOOK DIRECTLY FROM THE AUTHOR, PASTOR DAVID PETT. HIS EMAIL ADDRESS AND WEBSITE ARE BELOW THE BOOK. WE WILL BE BRINGING SOME COPIES TO THE REUNION IN JUNE OF THIS YEAR TO ACQUAINT YOU WITH IT EVEN MORE, IF YOU HAVE NOT YET ORDERED AND READ YOUR COPY.
Somebody who knew full well what "born again" by the Spirit of God really means: Here is Pearl Ginther's sister Myrtle giving her testimony Sept. 13, 1989 to Pearl in a birthday card, about how she was saved and born again as a teenager thanks to Pearl's timely, loving admonition:
"Pearl, it was you whom the Lord used to turn me from the World to Jesus Christ!

I stayed with you in Sioux Falls one night. I came home from a filthy movie (with a guy of course) and you looked at me so lovingly and intently and said, 'Myrtle, you'll lose your faith if you keep living like this.' It resulted in me going to Bible camp next day where I made a personal commitment to Jesus!! Praise God!!"
"I knew and was loved almost to pieces by Aunt Myrtle, and can testify she went through all storms of life and the onslaughts of the Enemy with her flags unfurled and her spirit undaunted. She was truly a victorious saint of God, her strength based primarily on prayer and daily intercession for needy people and the church, and her own commitment to the Lord Jesus Christ as her saving and sustaining Savior, as well as her submitting to the cross daily and obedience to the Lord in all matters. I mean every word of this and more. It is not just words that sound nice. She stood in the most extremes test of her faith in Jesus, and triumphed as pure gold! Her life bore fruit that is stupendous to behold. Her memory is sacred to me, as it should be. You can tell a tree by its fruit. Her life testifies she is a child of God, a woman of God, and now a glorious, heavenly saint of God. She left an incredible legacy for her children and relations to enrich their own lives with. I did not get to give my tribute to the Memorial given her at the Farm by the Svanoe Family, but this has to be it, besides my previous writes in tribute to her and Uncle Bill.--With love and eternal gratitude, her nephew, Ronald Ginther
Cora Stadem Taylor, in a New Year 2009 letter, also writes to Sister Pearl about her conversion and salvation experience:
"Thanks for the lovely Christmas Cards, they just arrived today. Carleen says thanks too. I'm so glad you add verses of Scripture to the cards that you send them [to the Seafarers, added to the gift packages Pearl makes up each year for the foreign seamen off the ships]. It could be just what they needed. I lived 19 years before I understood Salvation was only by Grace. I tried to figure out how I could be saved by that little water on my head [sprinkling of water in infant baptism]. It wasn't until I was at the Academy [Augustana Academy, Canton, SD] and they had invited a young Lutheran pastor to take over the 2 weeks of "Special Emphasis Weeks" at 10 a.m. Chapel, morning and every night, and he used so much scripture I realized I needed to admit to the Lord I was a lost sinner and said to Jesus, 'I take you as my Savior, praise your Name for forgiving me of ALL my sins.' Praise your name, Jesus. Love, Cora."
THE STADEM FAMILIES REUNION OF 2009 WAS A GREAT SUCCESS. Please read the account by Rennard Svanoe, Historian for the Stadem Descendant Families:
Stadem Families still on vacation after the 2008 Reunion stopped at the Black Hills and its manifold sights, including this magnificent replica of the all-wooden "stav" churches in Norway, which are 800 years old or even older. There is the Hopperstad stav church, in Vik, that looks just like this one in the Black Hills.
Pearl Stadem Ginther, oldest surviving Stadem in the Alfred and Bergit Stadem clan, now matriarch of the clan, is pictured in the center with some of her family beside the Black Hills stav church. She is "only" 99 years of age in this picture. But a reunion for 2010 will no doubt include some more celebration of her centennial birthday at the Farmstead, for those who were not able to attend the birthday in Washington State, her home since 1942.
Both children and adults are delighted when they see the herds of magnificent buffalo restored in numbers like this herd, one of many now grazing the pastures and mountain slopes in western South Dakota and in the Black Hills.
Pearl Stadem Ginther has appeared in the Lutheran Water World Ministry Newsletter (Summer 2008):
With picture, quote from Pearl Ginther referring to the Plain View Farm project of heritage: "Sometimes God brings special projects into our lives and gives them a home in our hearts."
Lakota Sioux Children, whose school Pearl Ginther contributed to for many years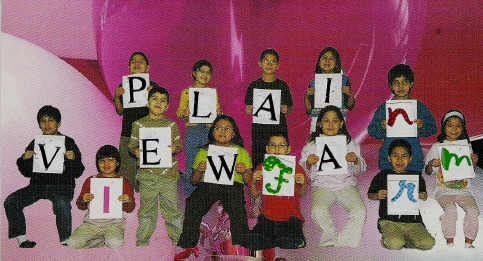 A new series: Stadem Reunions!
A tribute by Estelle Stadem-Rangen to her beloved Mama!
Our New Master Directory of Nine Sites:
We at the Plain View Heritage Farm Website thank Almighty God, our Savior and Lord Jesus Christ and His faithfulness and grace, and for giving us yet another year in the bud to serve Him and His glorious kingdom, a year which we pray He will cause to be very fruitful! May the Holy Spirit guide and direct us in every thing we say and do! Amen
To return to INTRO to PLAIN VIEW HERITAGE FARM:
To return to Part 1:
To go to Part 4, Conclusion:
(c) 2010-14, Butterfly Productions, All Rights Reserved
Butterfly Productions Home Page