Narrator: "The house was packed with family and guests for the celebration. But Papa would allow no one to cut into the special cake baked by a nationally-renowned expert in Volga, South Dakota - it was too full of memory, too full of Plain View Farm and all the love than had transpired on that bit of dark, rich Dakota soil. It has the names of all the Stadem children, plus a steepled church and the family house and barn, but the names of Bob and Arthur are marked with golden crosses. Papa Stadem leaves his chair and walks slowly toward the fence, gazing beyond. He smiles at some old memory, then he pauses and wipes his eyes. He recalls how he was a small boy standing by his mother's sickbed, feeling quite helpless, as she steadily grew weaker and weaker.
Then his mother died, and his father took him and the other children over to his parents after his father had prepared his wife for burial. `Dressed in white, with that quiet sleep on her face, she was so pretty,' his father told him later. At his grandmother's place, it grew dark and time for his father to return to the desolate homestead, the sod house of which he would later in life be so proud. His Papa was hitching up the lumber wagon and about to bid the all good-night. Only a five-year-old, young Alfred gathered up his courage and spoke in a way that was beyond his years, `Papa shall not go home alone. I want to go with him.' To his surprise, the adults' plan was changed. `Do you want to go home with Papa?' asked his grandmother in a kind voice.
`Yes,' he said. Into the darkness drove the young father seated on the lumber wagon with the little boy at his side. Sitting on that hard wooden bench, riding slowly along the trail homeward, the blackness of the night upon them, the father and son were talking about their loved one. Much later, their destination reached and the chores done, he lay curled in his father's arms. Did his father sleep at all that first lonely night without his beloved wife? God only knew that.
Forty-five years had passed since then, but he thanked God for the memory he had tried, in his simple boyish way, to forget his own hurt and comfort a grieving, broken-hearted parent. And never would he forget his father's arms about him that long, dark cold night. `O the comfort and security of a father's love!' he thought, in the warmth of remembrance."
Chorus: based on the Norwegian hymn: "Alas! Now my impoverished heart, weary of the world's sorrow and delight, quietly, quietly let me repose at my Savior's heart."
Narrator: (speaking of the young woman at the fence corner) "Bergit Stadem, the vibrant newlywed, stands by the fence, gazing beyond at what only she can see, the spring corn sprouting fresh and green in the fields - a joy and pleasure to any farmer's eye. Perhaps, she is remembering her wedding day, when she still a bride and her picture was being taken.
She is not yet by any means Bergit Stadem the widow whose beloved husband passed away twenty-eight long years before the day she slipped away from the earth at age ninety-eight. Her sunny-red hair loose, she is dressed in her wedding dress, in which she was married on August 19, 1908, and she clutches some freshly-picked sunflowers in her hand. All things, light or dark, have yet to come to pass for her, this young and untried bride of Alfred Jorgen Stadem the Dakota farmer. Nine children have yet to be birthed, breast-fed, diapered, and raised all the way to godliness, self-sufficiency, and love of God. Until her mission is complete in every detail, how many eggs will she gather in the henhouse? How many loaves of bread will she have to bake? How many meals to make? How much washing and ironing will she do? How many gardens will she plant, water and weed? How much canning in stifling, hot kitchens? How much wood to card and quilts to sew for her family and the mission barrel? How many homeless tramps, Indians, and Watkins' salesmen will she feed and send refreshed on their way? How many sick children will she nurse? God, only God knows. And, in the darkest night, when the worst happens and loved ones are lost and the very stars of heaven seem to fall from the sky, leaving only empty desolation and broken dreams, what will be left in her heart? Will the Lord find faith, hope and love still shining bright and strong, when He finally comes for her soul with golden-winged angels. God only knows.
Fresh off the HELLIG OLAF steamship from Kristiansand, now Oslo the capital of Norway, what of the world's sorrow and delight does she know? Her parents both died painfully young - that much she has suffered. Will there be more things to bear? She and her sister Katrine, or Tena, had been forced to sell their little one-cow farm to get passage to America, the land of new beginnings. That, too wasn't exactly easy - traveling to such a big, unknown foreign land as America and finding work without even knowing English! But she had weathered her parents' deaths by God's grace, and the Atlantic passage to America as well by god's grace. Would it be any different in the future? she wonders. Then again, as it always had been in her short life, God is love, she knows. That would never change even if all else did. Indeed, the last words her mother uttered was to ask for her. `Oh my, de beauty and splendor of mother love!' Bergit marvels. `Looking on her face I tot I saw de Face of Jesus--'
Bergit turns from the fence corner and starts back to the house.
The Narrator closes her book, steps before the two angels, and bows low to the audience. Any great-grandchildren and great-great-grandchildren of Bergit Stadem who wish then go to her and take her hand and bow with her. She remains there with the children, looking back to watch Bergit. The flute sounds the lively notes first heard in the introductory prelude as the young Bergit Stadem goes into the house, exchanges her beautiful wedding dress for a drab housedress and floursack apron, ties back her flowing hair, and picks up a broom and begins briskly sweeping the kitchen floor.
The End
(The Cast comes forward to the Audience, singing "It's Good to Be Back Home Again;" Audience is invited to join in)
EXPLANATION of Christian Stadem Family Heritage:
---
---
2. "Oh God, let it be a boy!"

3. "Barefoot! Song of Spring"

4. "Farm Life"

5. "Saturday Bath"

6. "Sunday Service"

7. Off to the Academy"

(With portion of hymn, "Praise God from Whom all Blessings Flow")

8. "Family Portrait"

(With Tribute narrated pieces: "Mama" by Bernice Stadem; "Papa" by Ruthie Stadem; or narrated portions from Estelle's "A Little Papa," "A Little About Mama," sections of "Ancestry, Biography, and Episodes..."

9. "Fishin' on Sunday"

10. "The Plain View Side"

11. "In the Gloaming" — published song, and possibly "Love's Sweet Song," a published song

12. Portion of hymn, "Blessed Assurance, Jesus is Mine"

13. New arrangement for Norwegian song, "Alas! Now my impoverished heart...etc."

14. End of Drama: Cast and Chorus, followed by Audience, sing "Back Home Again" and possibly "Blest be the Tie that Binds"

15. Additional Music: Flute (or harp or organ) Music for places in the text of the Drama
---
#1
"Pillsbury's Best"
"It has never been necessary for Mama to own many aprons. Just a good square floursack with the edges sewn up and bleached, folded into a three corner way, and, pronto, Mama had her apron! These sacks Mama sewed into pillow slips, dish towels and diapers for the baby. Even with Mama's lye soap the red and blue ink that was stamped on them was next to impossible to remove. The result was that `Pillsbury's Best' was prominently displayed on the seat of the baby. Whoever heard of store bought diapers, anyway?
— Estelle, "Ancestry, Biography, and Episodes of Bessie and Alfred Stadem and Families," The Stadem Book
Gates of heaven made of this—
Pearl—first—the child of bliss!
Canton* was her place of birth,
Then came Bernice of great worth.
Together, daughters like a ring:
Jem and setting for a king;
Clark** was next, the farm they kept,
Four more girls they did accept.
Myrtle, Cora, Alida,
Until a voice cried out an "Uff-da!"
Another daughter starred their crown,
And then they moved toward Bryant town.
Hamlin County, they moved last;
The barn and house, they built up fast;
Trees and lilacs, gardens too,
But what was best was the plain view.
Papa looked and gazed afar,
Of counties, three he numbered there;
No hill or rock could his sight bar,
He saw a Promised Land most fair.
In Norway mountains hemmed man in,
The valleys squeezed down deep within;
Not so, Hamlin's Plain View Farm!
Vast it stretched beyond his arm.
No walls of stone to shut them up,
The children ran until they dropped;
Everywhere just rich, safe sod,
A gentle, rolling gift of God***
---
*Canton, S.D. **Clark County
---
#2
"Oh God, let it be a boy!"
"Mama told she prayed before Estelle was born that if God willed, He would give her a son—not for her sake, but for the neighbors!"
— Estelle, "Ancestry, Biography, and Episodes of Bessie and Alfred Stadem and Families," The Stadem Book
"It better be a boy this time!"
Our Mama said one long, hot day.
"Five pennies make half a dime,
Just one good boy-—what would I pay!"
She cooked and scrubbed, and cleaned the house,
She gave her flowers' daily douse;
The stove wood chopped, the girls fed,
She labored till their time for bed.
"Come Mama," her daughters cried,
As they clung close by her side;
"Read us from God's storybook,
How Jonah made a whale's hook"
"No!" said Myrtle, Number 4,
"I want 'Joseph in the well'!"
But Number 4, as well as Be,
Chose "Daisy Bell Lost in the Dell."
Mama shook her dear red head,
And bundled them right off to bed;
Laughing, talking all the way,
Her daughters five had their last say.
"Mama wants a boy, I know!"
Number 5 observed to them.
"Why? What's wrong? It isn't so!"
Cried Second to another jem.
Finally, they fell asleep;
Mama rose up and she prayed;
Quietly, without a peep,
Her problem before God was laid.
Neighbors had begun to talk:
"Girls! Girls! Where will it stop?"
Papa could just take a walk,
But she felt like her head would pop.

Have mercy, Lord, and grant this boon,
A son! A son! May he come soon!
Not for me, or for my sake,
My neighbors, Lord, are hard to take!"

Man cannot tell what God thinks best,
Until the day the vine is blest;
Is it a boy, or is it not?
It was ESTELLE—just what GOD sought!
***
#3 "Barefoot! Song of Spring"
"From the time the first furrows were creased across out fields until the corn was planted, our farm had an air of bustle about it. We could sense the pulse of things growing. They were days of change. At first the trees were tinged a faint green adn suddenly, as if overnight, they broke into full leaf. The air came in heavy and fertile with promise through open doors and windows. These were happy times when we could wake in the morning and not have to lace shoes, but just run barefoot!"
— Estelle, "Ancestry, Biography, and Episodes of Bessie and Alfred Stadem and Families," The Stadem Book
Across the fields long furrows ran
That Papa plowed so straight and true;
To plant the corn was Papa's plan,
And reap a harvest as his due.

We sensed the pulse in tree and grass
That looked so bare and dead-—alas!
Our hearts, they quickened more each day,
We felt a turn was close at bay.

"Lulu, do see that tree?"
"The one whose branches make a cross?"
"It looks like green and can't be moss."
"Oh, no, you're wrong!" chimed in dear Be.

The sisters flew to brother Art.
He wasn't quick to play his part.
"Perhaps-—maybe-—but it's too soon,
Wait until the next full moon.
But, Change, it came like overnight!
All woke to find a thrilling sight.
The trees that once were lifeless brown
Now waved full-leaved from trunk to crown.

Our windows opened to an air
That Adam knew in lost Eden;
Like Paradise, with fragrance rare,
We breathed it in, again! again!

Oh, wonderful! when morning dawned,
And off we raced through open doors;
To splash barefoot in slough and pond
And celebrate New Life outdoors!
***
#4 "Farm Life"
"The everyday fare [and family life] of the farm revolved around the things we raised."
— Estelle, "Ancestry, Biography, and Episodes of Bessie and Alfred Stadem and Families," The Stadem Book
Farm life is no La-Te-Da!
For each day started in the dark.
Mama first, then our Papa,
At their chores before light say.

Sugar, flour, coffee too,
The store in town had them for sale;
But things we bought were precious few,
We raised out eats, from snout to tail.

Meat and produce from our land,
It came from sweat of brow and hand;
Cistern stored our cool, rich cream,
Till we poured it in the churn.

Vegetables we canned or stored,
The basement was our freezer then;
With little spend, no food bill soared,
Yet we got each vitamin.

Mama cooked on her wood stove,
It heated water in a cove;
She baked bread of the finest kind. Her recipe was
Omtrint" signed.

Washing was a two day job,
We boiled clothes until they screamed;
Elastic first gave a sob,
Then stretched to Timbucktoo, it seemed.

Oh Farm Life! It had its joys,
Especially when there were no boys!
In winter, frost formed on our beds,
We snuggled tight, with close—packed heads.

The hardest thing was-—ah, you guessed it!
The hut outdoors where you must sit.
In dark and cold we made our run,
Till White-Owl had compassion!
***
---
"Omtrint:" "guess;" White-Owl: "emergency" nightjar, or commode kept under the bed
---
"The Saturday bath, while the kitchen was warm, required bringing in a large wash tub, filling it with rain-barrel water that we heated on the range or took out of the reservoir. The lack of privacy and drafts from the opening of doors make it quite an ordeal. We first bathed the baby, then the next in line of years. Hot water was added after each bather had finished to warm up the water for comfort and effect for the next to step in."
— Estelle, "Ancestry, Biography, and Episodes of Bessie and Alfred Stadem and Families," The Stadem Book
MODESTY had little chance
When we all did our bare-limbed dance
Across the kitchen to the tub
To snatch a fast and weekly scrub!

Baby first, then each in years,
With Mama checking behind ears;
"Shut that door!"—you heard a cry;
Draughts were as bad as soap in eye.

Toward the end the stuff grew thick,
You couldn't stir it with a stick;
In stepped Pearl at the last,
All warm effect was long since past.
It's hard to say what good it did,
But rituals are hard to rid;
What Saturday would be complete
Without our blushes like a beet?

What other day could bear the sight
Of fronts and rears exposed to light?
Yet God gives grace with each sore test,
On Sunday morning we looked our BEST!
***

#6 "Sunday Service"
"Most of us remember the spiritual life and atmosphere of our home. The concern for and dedicated efforts to live a Chrisitan life. This we remember in our home. The family devotions each evening and on Sundays if we couldn't make it to church because of road conditions. This didn't happen very often because if the roads were too wet, we'd go by horses and wheels. If too much snow for the car, it was by horses and sleigh. All week we worked to prepare our clothes, shoes, lessons, the conveyance so that we should be found in our local congregation, five miles from home."
— Estelle, "Ancestry, Biography, and Episodes of Bessie and Alfred Stadem and Families," The Stadem Book
At home and church our parents taught
The Word of God just as they ought;
A Christless home grinds in first gear,
It has no focus, there or here.

We seldom wondered what to do,
Our parents showed us what was due;
To Sunday School we went prepared.
No lessons done? We never dared!

Devotions in our home each day
Instilled in tender hearts a Way
To godly life and happiness,
By faith AND practice that will bless.

The Road that we all then begun
Is best when you have started young;
Train up a child the way to go,
And he will never end in woe.

Loving Jesus was the Aim,
It wasn't showing-off, or game;
To honor God for all He'd done
Upon the Cross for everyone.
And so we worked and scrubbed and dressed.
And went to church with our clothes pressed;
We never asked why we should go,
It was the Stadem Way, we know.
***

#7 "Off to the Academy!"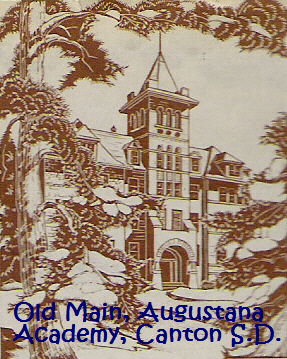 After grade school we were privileged to attend Augustana Academy [a historic, Scandinavian immigrant-based, Christian institution of learning], a trip which we took mostly by train over a hundred miles from home. Always tears were shed as we left home...As we sat ready to leave, and the younger ones standing by, the finale was to sing `Praise God From Whom All Blessings Flow!' It left a deep impression and an long-remembered ritual."
— Estelle, "Ancestry, Biography, and Episodes of Bessie and Alfred Stadem and Families," The Stadem Book
A hundred miles by train or car,
The separation seemed too far;
But go we must, and loved ones part,
From Pearl first to Ruth, Lee, Art.

"We Would See Jesus!"—motto dear—
Augustana's firm foundation;
"We Would See Jesus!"—oh how clear!
That high, aspiring education!

Each class and school activity
Was centered on that noble goal;
We trained and studied hard daily
And came through disciplined in soul.

From principal to green freshman,
Augie stood up next to none;
Ole Rolvaag, Amundsen,
Some even say Lincoln's son!

`Tis sad it ever closed its door,
The Promise never lost its gleam;
The gold it gave us in years four
Has never ceased to shed its beam.
***

#8 "Family Portrait"
"Not only did the nine of use receive Christian education, but somehow Papa and Mama put aside monies so that even the grandchildren could take advantage of the opportunity of attending a Christian high school. A Christian respect for the nation was instilled in us, and Papa especially stressed Christian leadership and gave tribute especially to Abraham Lincoln. We thank God for parents who loved the Lord Jesus, read the Word to us, practiced its teaching, being faithful, and taught us to do the same. We thank God for all Papa did for us. We thank God for you, Mama. `The godly shall flourish like palm trees; those that are planted in the house of the Lord are under His personal care. They shall bring forth fruit in old age and be vital and green.' Psalms."
— Estelle, "Ancestry, Biography, and Episodes of Bessie and Alfred Stadem and Families," The Stadem Book
From Two came nine who all stand tall—P>Fruits of parents tried and true;
Arm in arm, not one can fall,
The chain of FAMILY they grew.

Link on link, there gleams pure gold,
Spirits free and in Christ bold;
No sluggards, these! They seize the day,
Giving ALL to work or play.

Pungent, sweet, and chewy too,
Their characters are all true blue;
No stuffed shirts of Pomposity,
They love a laugh, whate'er it be.

Down to earth, or up to heaven,
They salt to meat, or just good leaven;
They stand out unique in a crowd—
Individuals, God-endowed.

Pillars of America,
Facing firm her mortal foes;
When Duty calls, no hem and haw!
Into the fray each one then goes.

No wasting life, no emptyness,
They have an Aim for all they do;
While others wander in a mess,
They cannot miss with their Plain View.
***

#9 "Fishing on Sunday!
"I marvel that you are turning away so soon from Him who called you in the grace of Christ, to a different gospel..."—Galatians 1:7a; "I have been crucified with Christ; it is no longer I who live, but Christ who lives in me, and the life which I now live in the flesh I live by faith in the Son of God, who loved me and gave Himself for me. I do not set aside the grace of Christ, for if righteousness comes through the law, then Christ died in vain."—Galatians 2:20-21; "Let all bitterness and wrath, and anger, and evil speaking be put away from you, with all malice. And be ye kind one to another, tender-hearted, forgiving one another, even as God for Christ's sake hath forgiven you."—Ephesians 4:31-32.
The Grace of God is the sufficiency that makes the joyless hour throb with glory, that puts the glow of heaven on the fading page of earth..."
— Estelle, "Ancestry, Biography, and Episodes of Bessie and Alfred Stadem and Families," The Stadem Book
The heart of man is dark and deep,
The things therein can make flesh creep;
How can we from God's Grace now turn?
What gain is there in works that burn?

The letter of the Law will kill,
It makes your spirit deathly ill;
Grace, not Law, will set us free,
It's Christ who won our liberty.

Branded with the Hagar mark,*
We labored, slaves, in sin's deep dark;
Then one day Light shone so bright,**
The blinders dropped from off our sight.

HE paid for sin, the price complete—
Shed Blood of Christ, our Mercy-seat;
Washed in His Blood, from sin released,
Our new life by Christ's death purchased.
***

---
*Hagar: "For it is written, that Abraham had two sons, the one by a bondmaid, the other by a freewoman. But he who was of the bondwoman was born after the flesh; but he of the freewoman was by promise. Which things are an allegory: for these are the two covenants; the one from Mount Sinai, which gendereth to bondage, which is Hagar. For this Hagar is Mount Sinai in Arabia, and answereth to Jerusalem which now is, and is in bondage with her children. But Jeruslem which is above is free, which is the mother of us all."— Galatians 4:22-26.

**Receiving Christ as Personal Savior, the Second Birth as a Child of God by His Grace.
---
#10 "The Plain View Side"
"Your children and children's children will become middle-aged, then old. The living will become the dying, The strong will become the weak. The dreamers will become realists. The process will never go into reverse..."
— Estelle, "Ancestry, Biography, and Episodes of Bessie and Alfred Stadem and Families," The Stadem Book
What heritage will stand the test
When life turns raw and dark-perplexed?
Those times must come, of death and loss
When now You must take up your cross.

You are alone, yet not forsook,
Your Counselor stands by His Book;
His Spirit also sends a Dove
With Balm and Cheer straight from Above.

Those who chose the Plain View way
Have now so much, so much to say!
They've come through fire, water too—
ABUNDANT LIFE is now their due.

Crowns of Life grace every brow.
Overcomers, they know how!
Glean their secrets for the strife,
Which can help you all your life!

Refined like silver and like gold,
Their lives are Sagas to be told;
If you, like them, in God abide,
You're walkin' on the Plain View Side.
***
Lord, impart a special blessing to those who put these lyrics to tunes and written music, so that this musical can be performed after more than eighteen years after it was first written. Amen--R.G.